My overall experience with Xeela has been phenomenal, to say the less. Awesome product, awesome experience and awesome customer support.
Amy W (a Xeela customer)
CLEAN PLANT PROTEIN
---
Regular price
Sale price
$49.99
Unit price
per
Sale
SOLD OUT!
We are proud to bring you the best tasting and most effective plant-based protein on the market. Every batch is tested to guarantee our quality. Everyone can benefit from introducing plant-based protein into their daily diet and XEELA® is the path to do just that.
How To Use

Mix 1 scoop of Xeela Protein with 10 - 12oz of water or the beverage of your choice. Xeela Protein can be spoon stirred in a glass, mixed in a shaker bottle, or blended to create a smoothie. Consume 1-3 shakes throughout the day as needed to meet your protein intake needs.
Protein Supplement Facts
(Banana Split)
Protein Supplement Facts
(Chocolate Sundae)
Protein Supplement Facts
(Java Chip)



Protein Supplement Facts
(Peanut Butter Cup)
Protein Supplement Facts
(Peppermint Mocha)
Protein Supplement Facts
(Strawberry Shortcake)
FAQ's

1. How do I take XEELA® Clean Plant Protein? 


We recommend you take our Clean Plant Protein 1 to 3 times throughout the day, depending on your protein needs. Just mix 1 scoop with 10-12oz. of water or beverage of your choice (almond, coconut, oat, or cow's milk). You can stir it into a glass, mix it in a shaker, or blend it in a smoothie. The choice is yours!

 2. How many servings are there in a single bag of Protein?


Each tub of XEELA® Clean Plant Protein contains 20 servings!

3. How much protein does XEELA® Clean Plant Protein contain?


Each serving of Clean Plant Protein contains 25g of plant protein (and yes, the protein is organic!). We source our protein from organic pea protein and organic brown rice protein. 

4. Does XEELA® Clean Plant Protein contain any BCAAs (Amino Acid)?


Yes! Each serving of Clean Plant Protein contains 1,000mg per serving. Our BCAA's are sourced from sunflowers making them 100% vegan friendly. 

5. Does it contain any sugar? 


Yes! Our Clean Plant Protein contains 1g of added sugar (less than 1/4 teaspoon) but it's not just any kind of sugar - it contains Coconut Sugar, a plant-based sweetener with some health benefits!



6. What is Coconut Sugar and how is it good for you? 

Coconut sugar retains many nutrients - mostly 

iron

, 

zinc

, 

calcium

, and 

potassium

. These nutrients can support the body in numerous ways. Coconut sugar also contains the soluble fiber 

inulin

, which is linked to a lower risk of blood sugar spikes. 

If you are looking for a natural, plant-based sweetener to keep your blood glucose and energy levels up, coconut sugar is the ideal choice.

7. What does it mean to be "Clean"? 


We are proud to call all of our products 'Clean' because we have taken it upon ourselves to go the extra mile to guarantee it. Every single batch we produced is sent, tested, approved, and verified by a third party completely independent of us. This organization is called the BSCG, or the Banned Substance Control Group. They are responsible to vetting and approving all 'Safe For Sport' supplements. This guarantees that our products are free from all banned substances, heavy metals, toxins, or any other excipient you definitely do not want to be putting into your body. Only a handful of supplement companies do this. We are proud to be one of the few who actually do. 
Share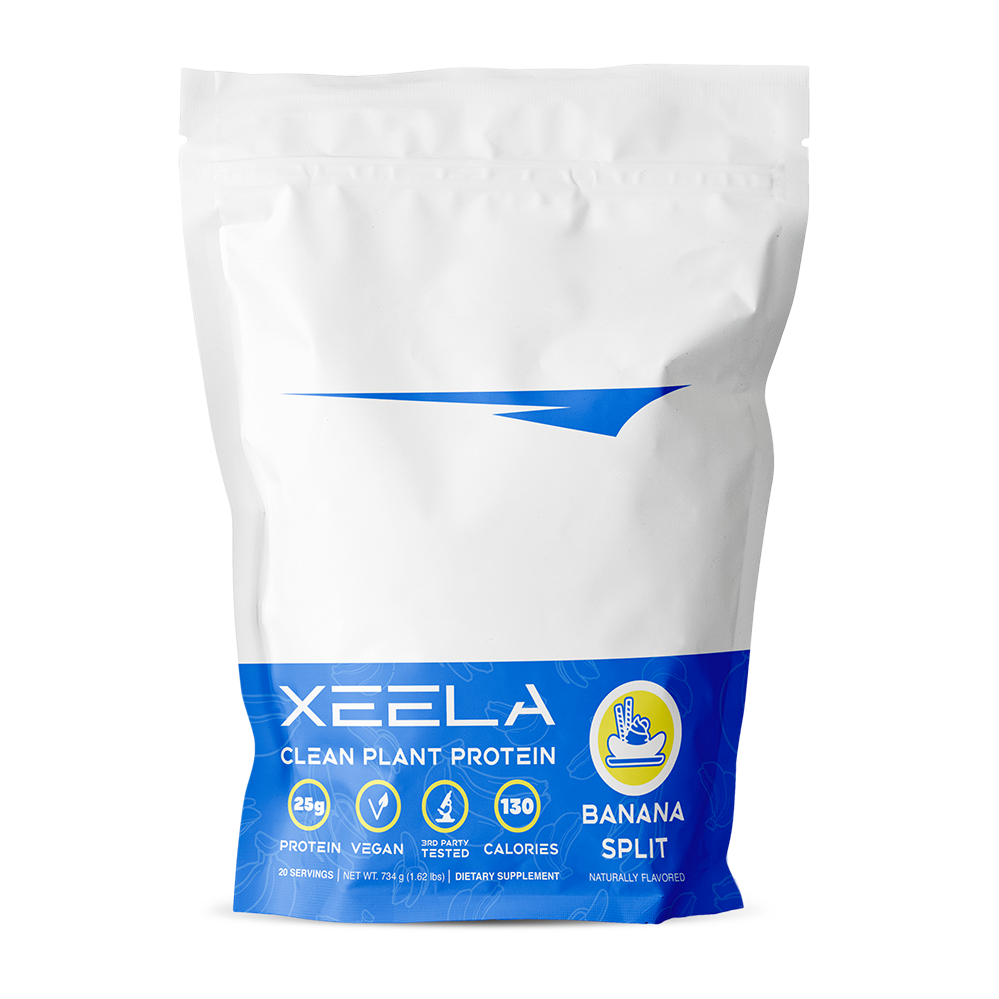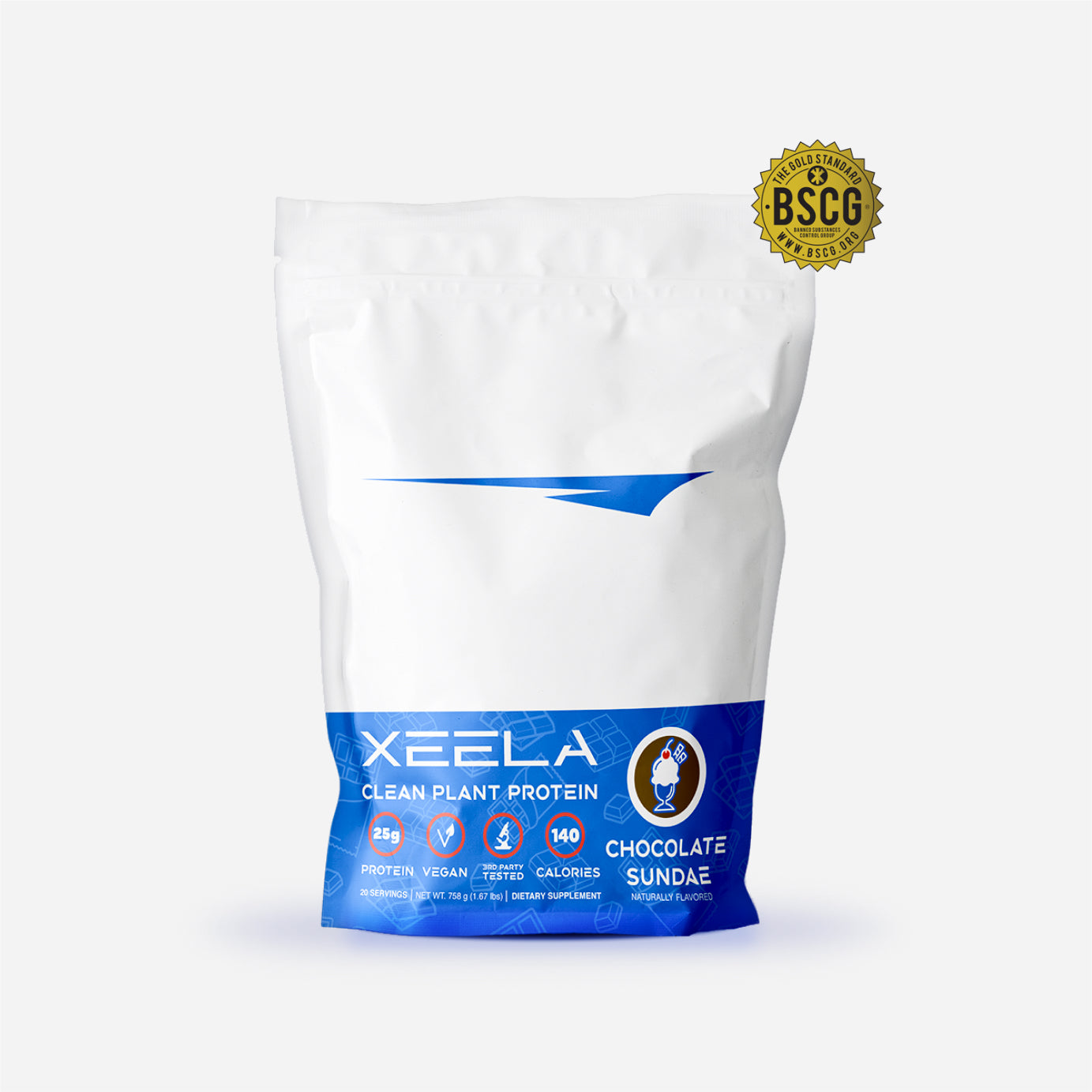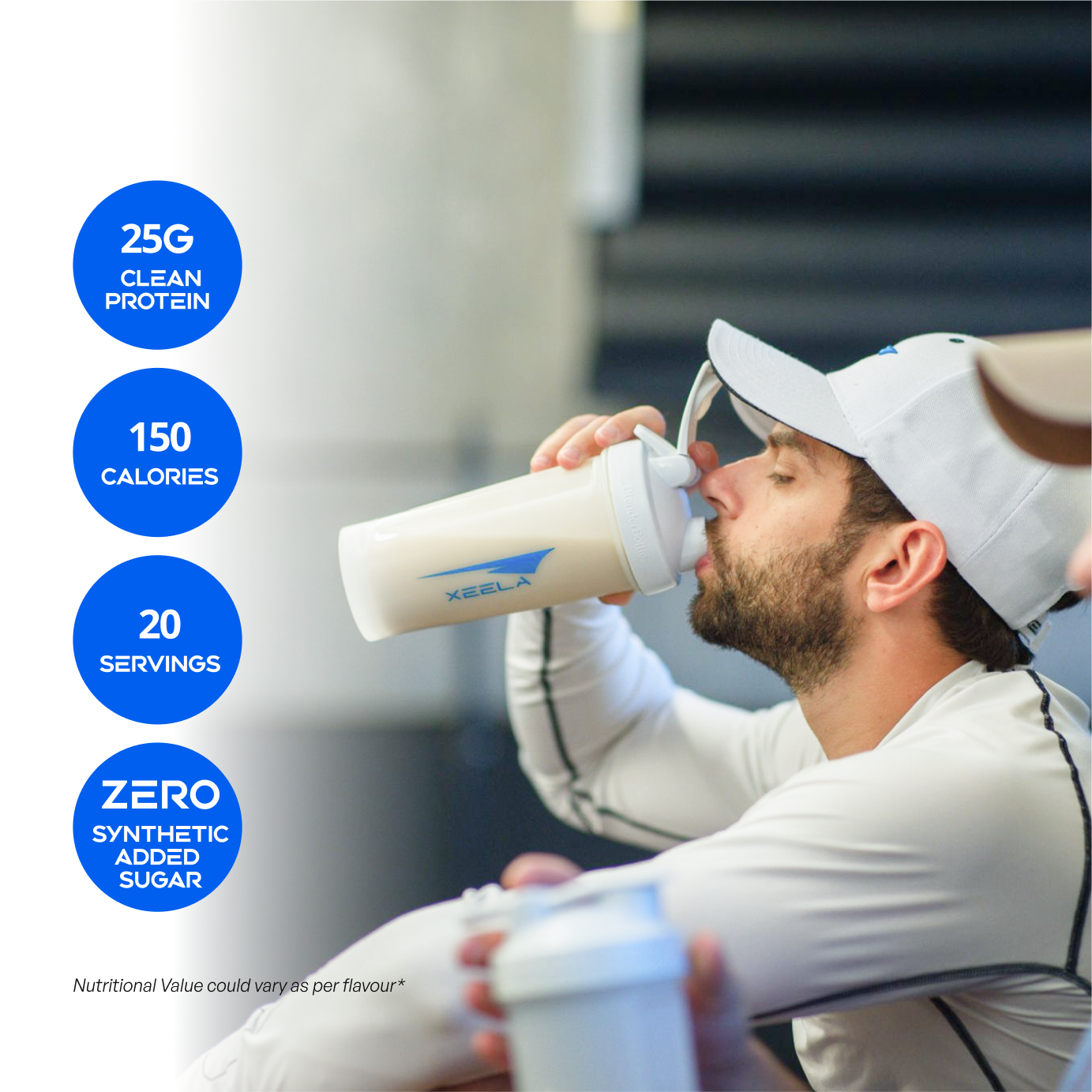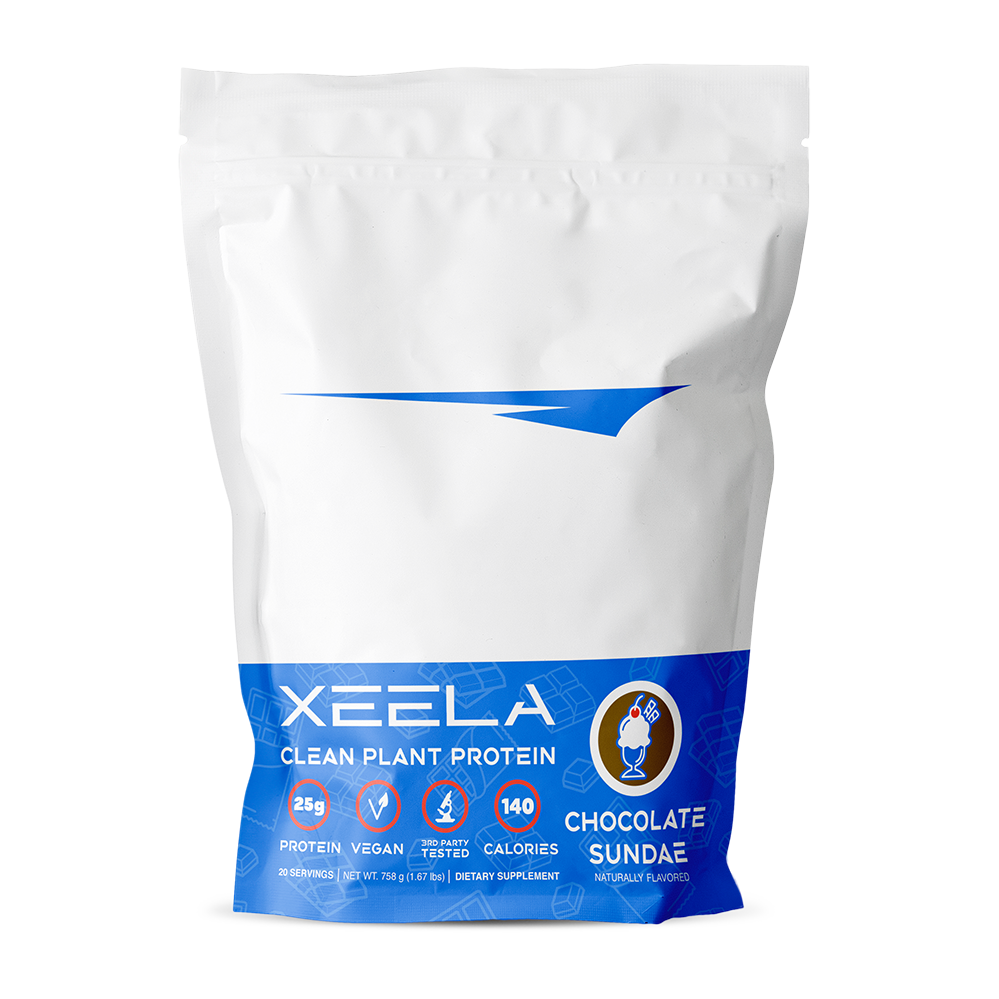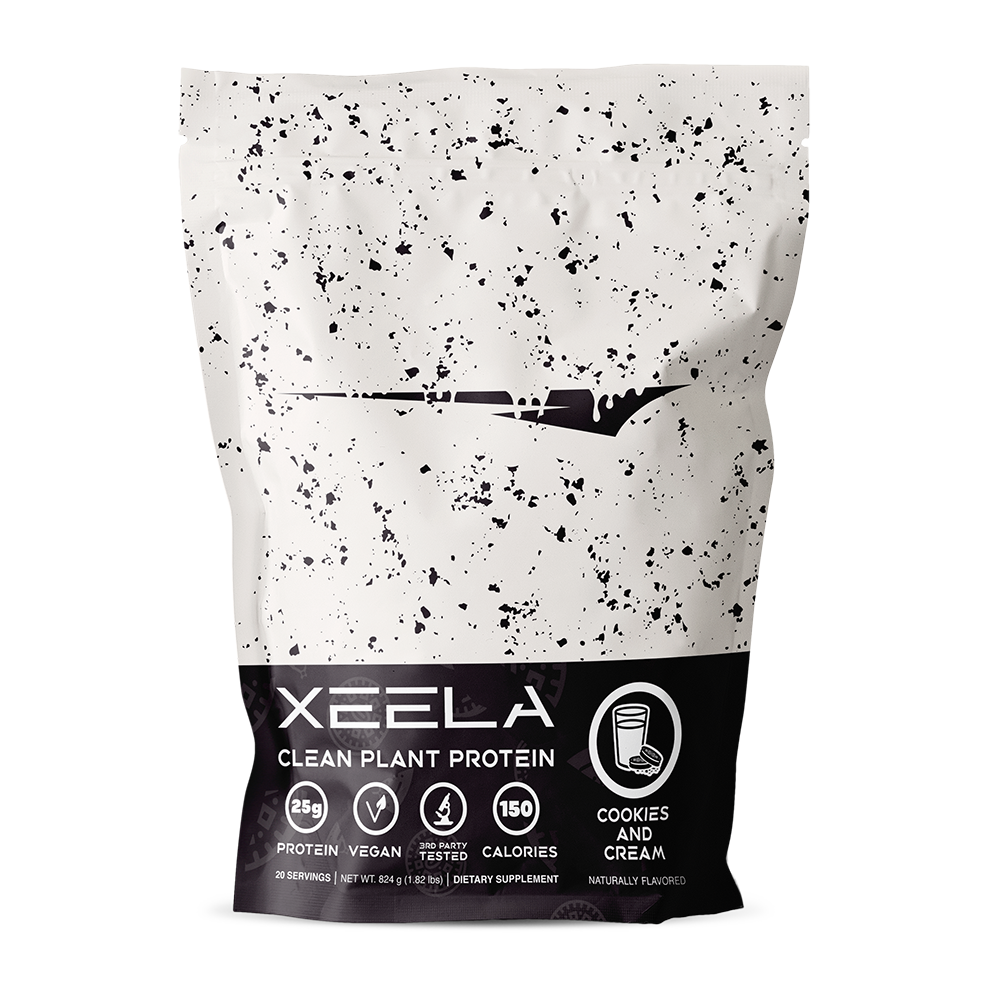 Customer Reviews
Write a Review
Ask a Question
11/16/2023
Margaux M.

United States
All in on the Xeela Train
The last four months I've been working with my trainer to get 135 g of protein each day, which is insane for someone who barely ate protein at all before! Xeela has made hitting that daily goal so much easier. Fav flavors are peanut butter and the chocolate sundae although at this point I think I've had them all and not one of them is bad!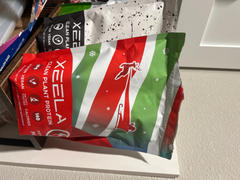 11/04/2023
Adriana C.

United States
THE BEST !!
wish i could give more stars because this is the best protein shake i have ever had !! i've tried other protein shakes and nothing can compare to Xeela clean plant protein, LOVE LOVE LOVE LOVEEEEE ! I currently have the strawberry shortcake and just got my peppermint mocha and it's is the best thing I have ever tried , I can't wait to order more and try the other flavor's. also blue raspberry pre workout is the best !! can't wait to also buy more xeela products . CLEAN PLANT PROTEIN- strawberry shortcake/peppermint mocha
10/29/2023
Levi G.

United States
WOW!! Strawberry shortcake
I have been using XEELA for over a year now! WOW, is all I can say about the strawberry shortcake! It is soo good!!!! I crave it just for a shake through out the day! I can't wait to workout each day because I get to drink it after!
10/15/2023
lesa h.

United States
more than expected
i ordered the sample pack and damn are these samples way bigger than expected xeela really goes all out for their customers was sent this way by zane and heath and will definitely be trying other products as well
09/26/2023
Maya H.

United States
Tasty!
So freaking good can't wait to try the other flavors. I have never had a protein powder I could drink with JUST water amazing. No longer have to make smoothies I don't want just to get protein.
09/15/2023
Amber

United States
Delicious
Vanilla is normally my go to but since it wasn't an option I went with the chocolate sundae and I have to admit I was nervous it would be too much chocolate but it's actually delicious. And I recently received the cookies n cream and that did not disappoint. Both are amazing flavors
09/12/2023
rosaura b.

United States
Strawberry Protein
Was supper excited about this especially since everyone i saw talk about it claimed it was good. I have tried different proteins. Definitely not my favorite & wont be reaching for it again. Maybe need to try a different flavor but just not a fan.
09/11/2023
Nikita

United States
10/10
Slow shipping but worth the wait! Just wow, best protein shake I've ever put in my blender bottle. I have a sweet tooth and the strawberry shortcake completely satisfies it. I'm full with none of my usual cravings afterward. With this shake it doesn't feel like I'm settling for a meal replacement. I look forward to trying other flavors.
Free U.S. Shipping On All Order Over $85

All orders are processed immediately and shipped from our warehouse within 1 business day. Every single product is proudly made in the United States.

Every Product Is BSCG Approved

XEELA® is proud to announce our partnership with the Banned Substances Control Group. This is how we guarantee you are getting the absolute best & clean products available.