My overall experience with Xeela has been phenomenal, to say the less. Awesome product, awesome experience and awesome customer support.
Amy W (a Xeela customer)
ACTIVE BUNDLE
---
Regular price
$89.98
Sale price
$80.99
Unit price
per
Sale
SOLD OUT!
We are proud to bring you the best tasting and most effective plant-based protein on the market. Every batch is tested to guarantee our quality. Everyone can benefit from introducing plant-based protein into their daily diet and Xeela is the path to do just that. XEELA® Clean Pre Workout contains ingredients proven to increase fat burning during exercise while providing you with the strength and focus to squeeze out every last rep. Our precisely dosed formula will give you the pump you are looking for, and the energy to get through any workout. All with no crash!
Share
How To Use

For Clean Pre Workout:
Mix one scoop with 8-12oz of water and consume 20min before activity, resistance or cardiovascular training.

For Clean Plant Protein:
Mix 1 scoop of Xeela Protein with 10 - 12oz of water or the beverage of your choice. Xeela Protein can be spoon stirred in a glass, mixed in a shaker bottle, or blended to create a smoothie. Consume 1-3 shakes throughout the day as needed to meet your protein intake needs.
Plant Protein Supplement Facts
(Banana Split)
Plant Protein Supplement Facts
(Chocolate Sundae)
Plant Protein Supplement Facts

(Java Chip)



Pre Workout Supplement Facts

(Tropical Punch)
Pre Workout Supplement Facts
(Blue Raspberry)
Plant Protein Supplement Facts
(Java Chip)
Plant Protein Supplement Facts
(Peanut Butter Cup)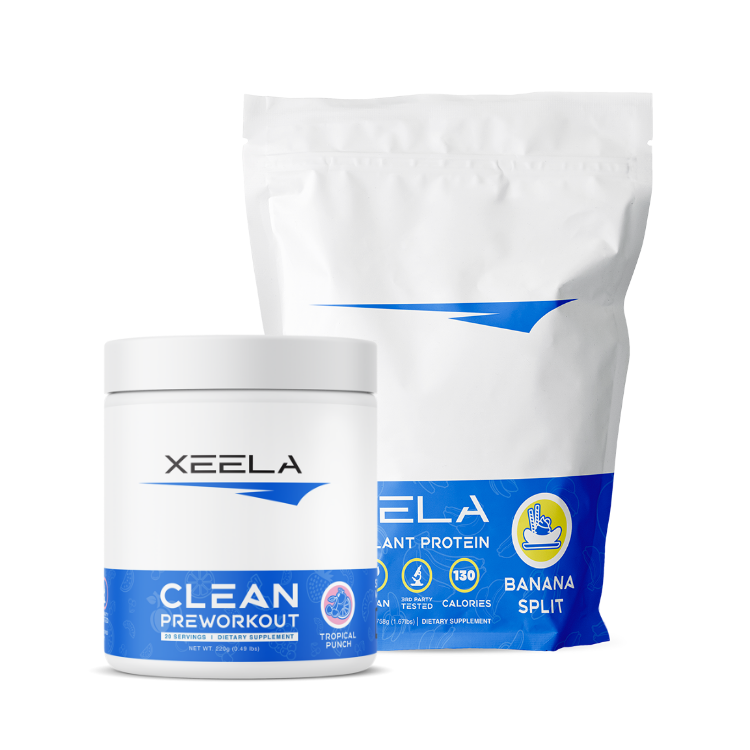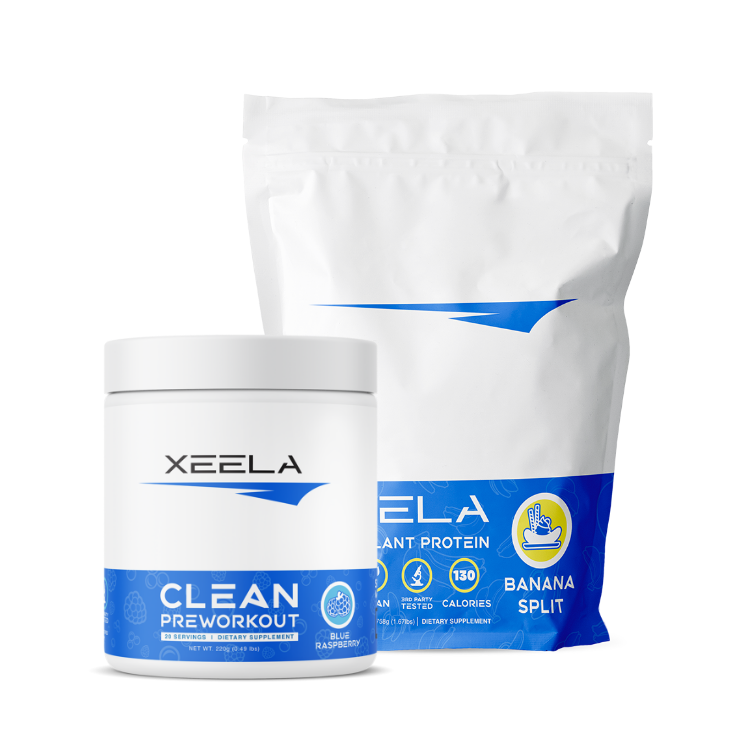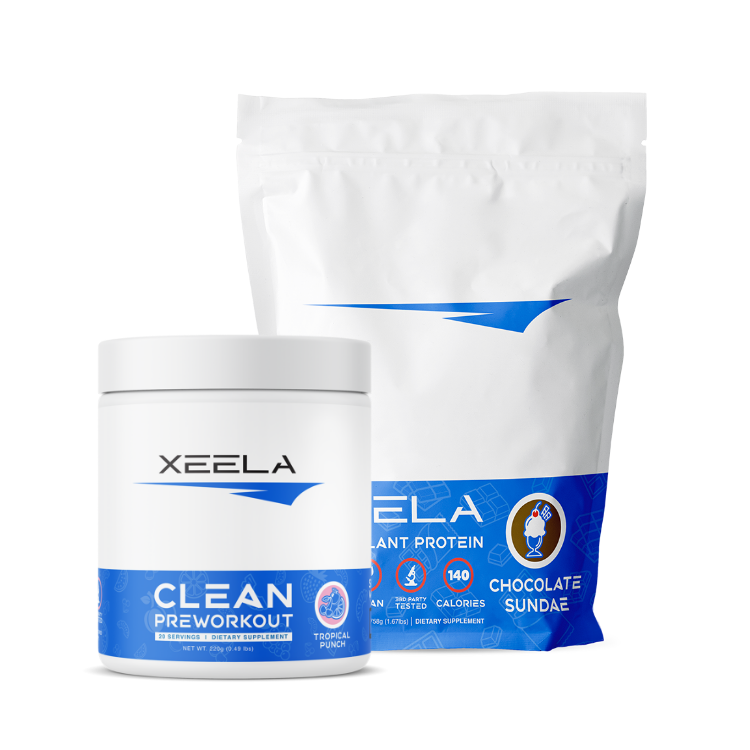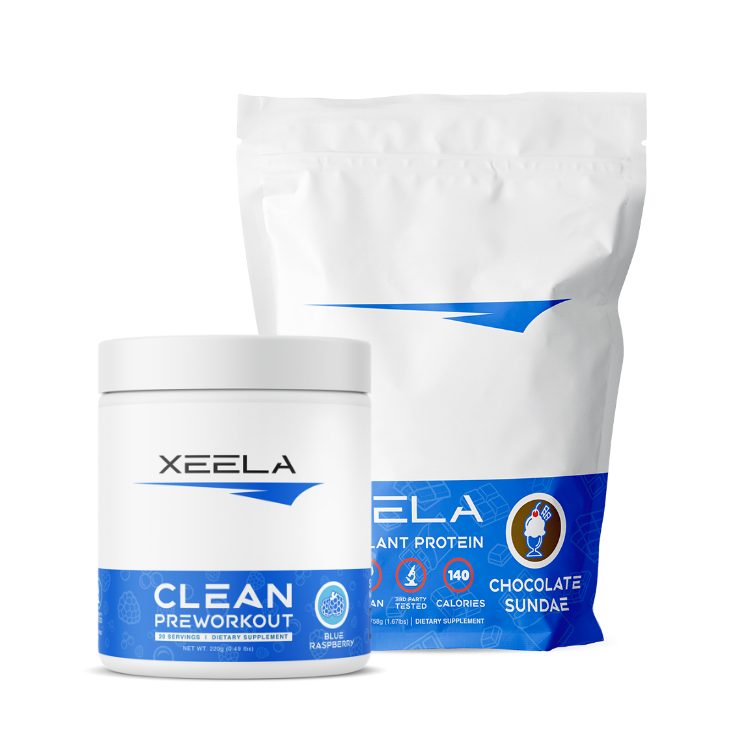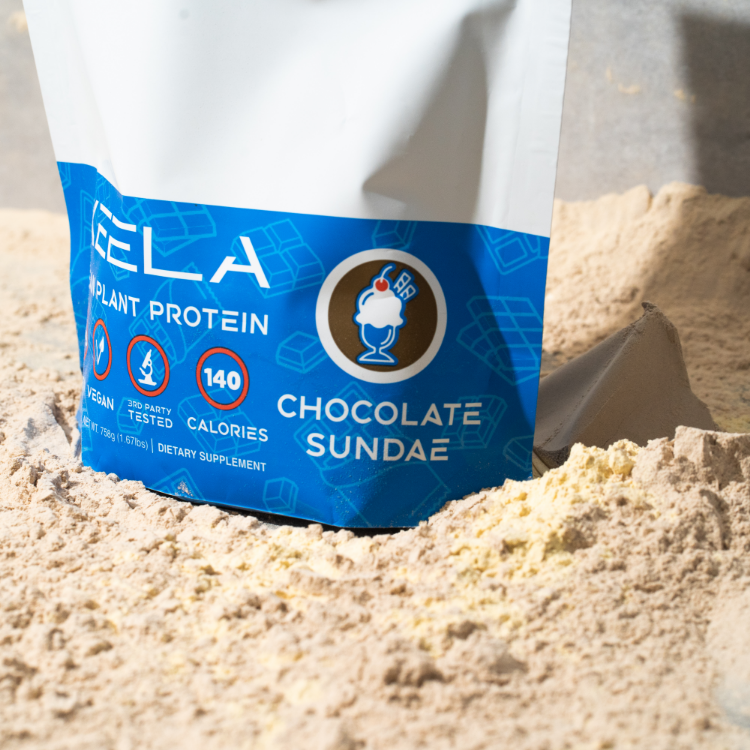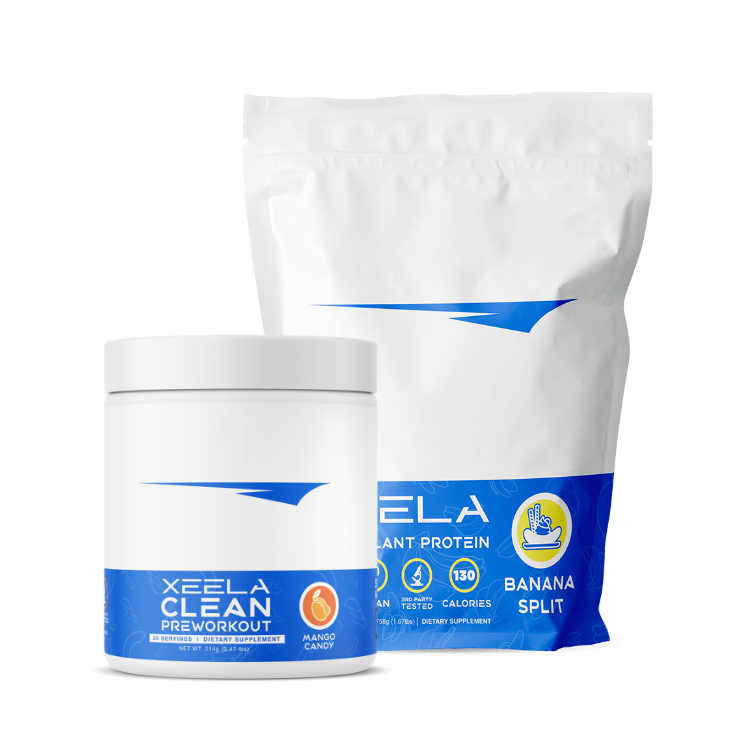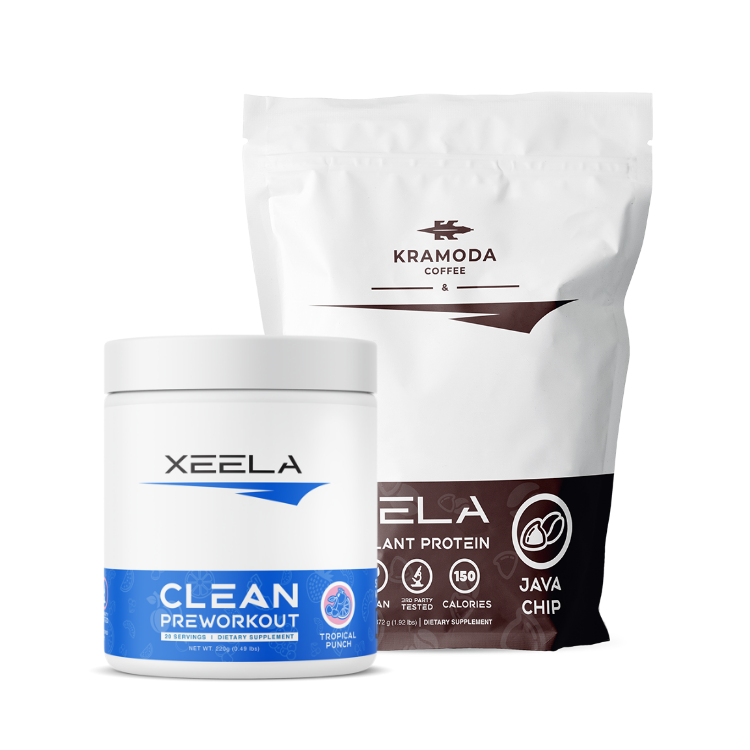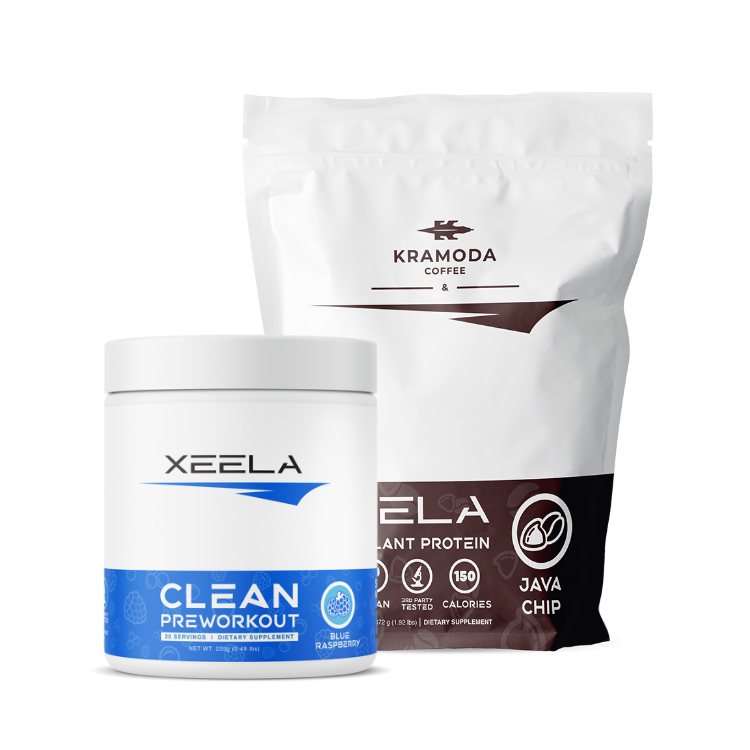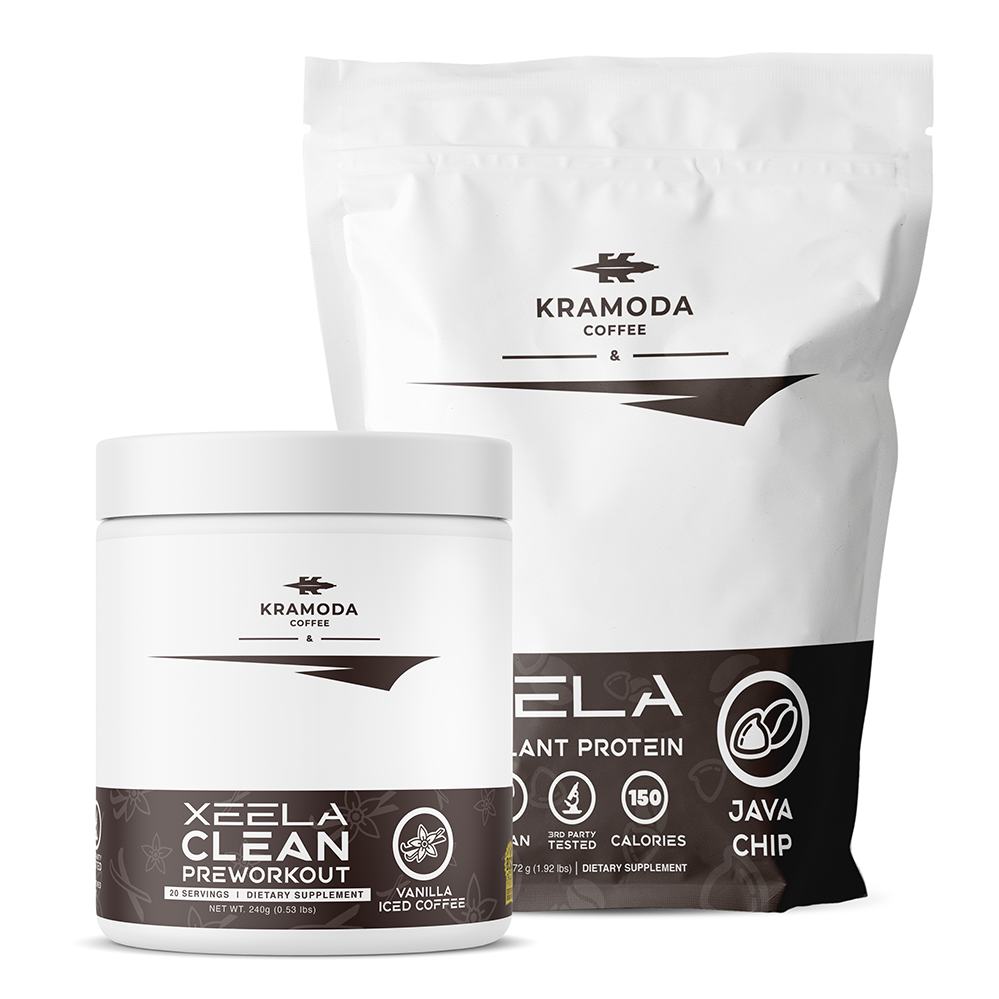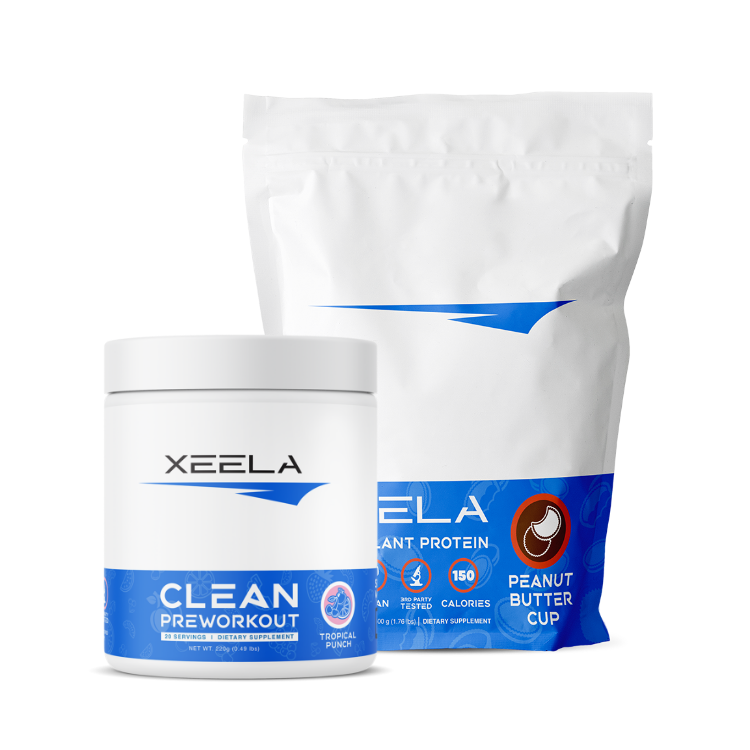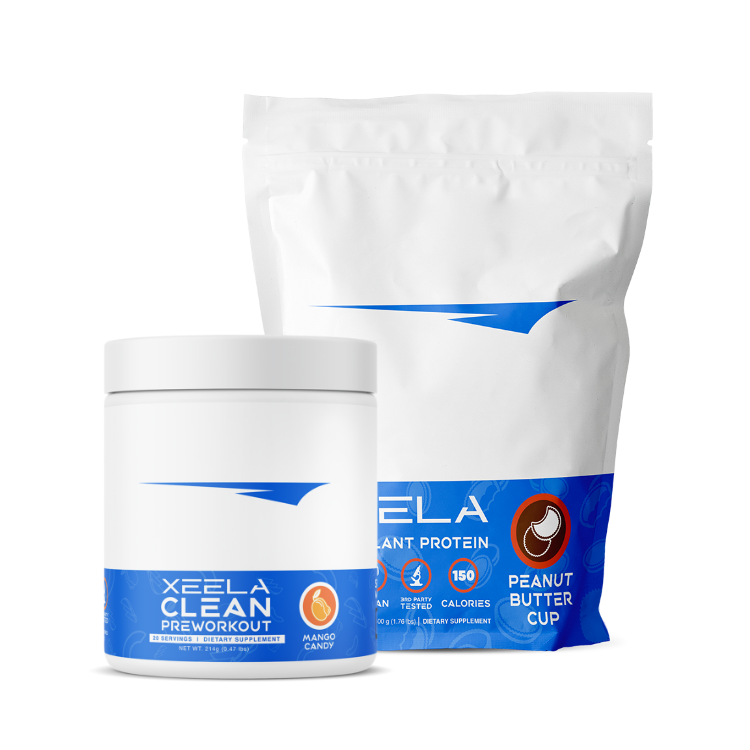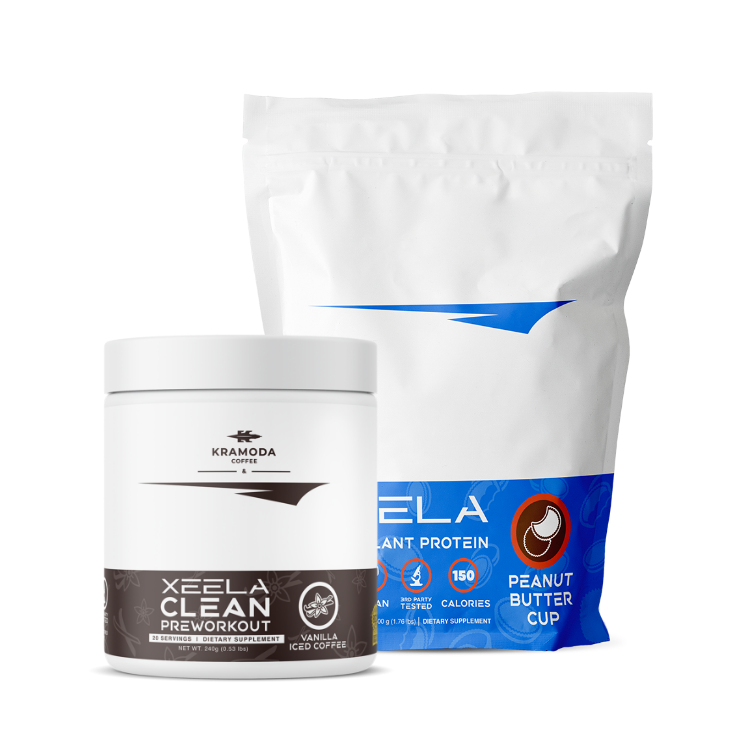 Customer Reviews
Write a Review
Ask a Question
10/10/2023
Rabecca H.

United States
LOVE XEELA
All the products are soo good! I can't stop recommending to my friends and family !
07/27/2023
Cameron T.

United States
Active Bundle
It's great the pre workout gives me that extra energy I need during a workout. And the protein shake is a great product I use for a snack during the day and drink it right after my workout. Both have great taste well I will definitely continue to buy the active bundle set.
06/07/2023
Ralph D.

Canada
BEST SUPPLEMENT INVESTMENT IN THE INDUSTRY
Ive been invested in xeela products since day 1, and they do not disappointment. For instance.. PROS (Protein): - its plant based so ANYBODY CAN DRINK IT - the flavor is as advertised, and the flavor tastes great whether you are doing 1 scoop or 2 scoops - the price is unbeatable especially when it actually works with building muscles - overall, gain effective, supplies the necessary protein intake PROS (Pre-workout) - effective in helping connect with mind-muscle connection - recovery time to hit the next set is noticeable - IT IS NOT LIKE OTHER PRE, where you feel like your heart is beating faster to produce more oxygen and ATP, nor do you feel a crash after you workout - infact you feel more awake CONS for both products: - can be expensive when you buy bi-monthly - they taste so good, you can't stop so you buy more lol Final Thoughts: Xeela products is a blessing in disguise made by the owner, who is one of the most customer loyal and outside of the box thinker. I would invest only with xeela and I hope they start to do ambassadors or brand representor for people who want to work with xeela someday. I hope you guys take the action and invest in this godly company!
05/11/2023
Emma B.

United States
LOVE!
I love that you can change your flavors every order!
05/01/2023
Ralph D.

Canada
THE BRAND TO INVEST YOUR HEALTH IN
Been w Xeela since launch, and they CARE only about QUALITY and RESULTS! There's no other supplement brand that I would turn to other than Xeela. Xeela foreve!
04/04/2023
Samantha F.

United States
Banana Split Protein
Banana split protein powder with a scoop of beanie butter…. chefs kiss
03/21/2023
Cassidy P.

United States
Wonderful
I enjoy both these products very much. The protein shake is so good & when paired w unsweet almond milk it's perfect for me! The preworkout works amazingly, no shakes no itchiness no nausea, just pure adrenaline!
03/14/2023
Stephanie D.

United States
Changed my Life
I'm not kidding when I say this changed my life. It made me WANT to be active every day and get in the gym. The pre-work out is amazing, quick burst of energy and lasts about 2 hours which is great for a workout. The protein powder is better than some of its competitors, higher protein, lower calories, AND vegan!!! HIGHLY recommend this company and these products.
Free U.S. Shipping On All Order Over $75

All orders are processed immediately and shipped from our warehouse within 1 business day. Every single product is proudly made in the United States.

Every Product Is BSCG Approved

XEELA® is proud to announce our partnership with the Banned Substances Control Group. This is how we guarantee you are getting the absolute best & clean products available.