My overall experience with Xeela has been phenomenal, to say the less. Awesome product, awesome experience and awesome customer support.
Amy W (a Xeela customer)
CLEAN PLANT PROTEIN (2pk)
---
Regular price
Sale price
$94.99
Unit price
per
Sale
SOLD OUT!
We are proud to bring you the best tasting and most effective plant-based protein on the market. Every batch is tested to guarantee our quality. Everyone can benefit from introducing plant-based protein into their daily diet and XEELA® is the path to do just that.
How To Use

Mix 1 scoop of Xeela Protein with 10 - 12oz of water or the beverage of your choice. Xeela Protein can be spoon stirred in a glass, mixed in a shaker bottle, or blended to create a smoothie. Consume 1-3 shakes throughout the day as needed to meet your protein intake needs.
Protein Supplement Facts
(Banana Split)
Protein Supplement Facts
(Chocolate Sundae)
Protein Supplement Facts
(Java Chip)



Protein Supplement Facts
(Peanut Butter Cup)
Protein Supplement Facts
(Peppermint Mocha)
FAQ's

1. How do I take XEELA® Clean Plant Protein? 


We recommend you take our Clean Plant Protein 1 to 3 times throughout the day, depending on your protein needs. Just mix 1 scoop with 10-12oz. of water or beverage of your choice (almond, coconut, oat, or cow's milk). You can stir it into a glass, mix it in a shaker, or blend it in a smoothie. The choice is yours!

 2. How many servings are there in a single bag of Protein?


Each tub of XEELA® Clean Plant Protein contains 20 servings!

3. How much protein does XEELA® Clean Plant Protein contain?


Each serving of Clean Plant Protein contains 25g of plant protein (and yes, the protein is organic!). We source our protein from organic pea protein and organic brown rice protein. 

4. Does XEELA® Clean Plant Protein contain any BCAAs (Amino Acid)?


Yes! Each serving of Clean Plant Protein contains 1,000mg per serving. Our BCAA's are sourced from sunflowers making them 100% vegan friendly. 

5. Does it contain any sugar? 


Yes! Our Clean Plant Protein contains 1g of added sugar (less than 1/4 teaspoon) but it's not just any kind of sugar - it contains Coconut Sugar, a plant-based sweetener with some health benefits!



6. What is Coconut Sugar and how is it good for you? 

Coconut sugar retains many nutrients - mostly 

iron

, 

zinc

, 

calcium

, and 

potassium

. These nutrients can support the body in numerous ways. Coconut sugar also contains the soluble fiber 

inulin

, which is linked to a lower risk of blood sugar spikes. 

If you are looking for a natural, plant-based sweetener to keep your blood glucose and energy levels up, coconut sugar is the ideal choice.

7. What does it mean to be "Clean"? 


We are proud to call all of our products 'Clean' because we have taken it upon ourselves to go the extra mile to guarantee it. Every single batch we produced is sent, tested, approved, and verified by a third party completely independent of us. This organization is called the BSCG, or the Banned Substance Control Group. They are responsible to vetting and approving all 'Safe For Sport' supplements. This guarantees that our products are free from all banned substances, heavy metals, toxins, or any other excipient you definitely do not want to be putting into your body. Only a handful of supplement companies do this. We are proud to be one of the few who actually do. 
Share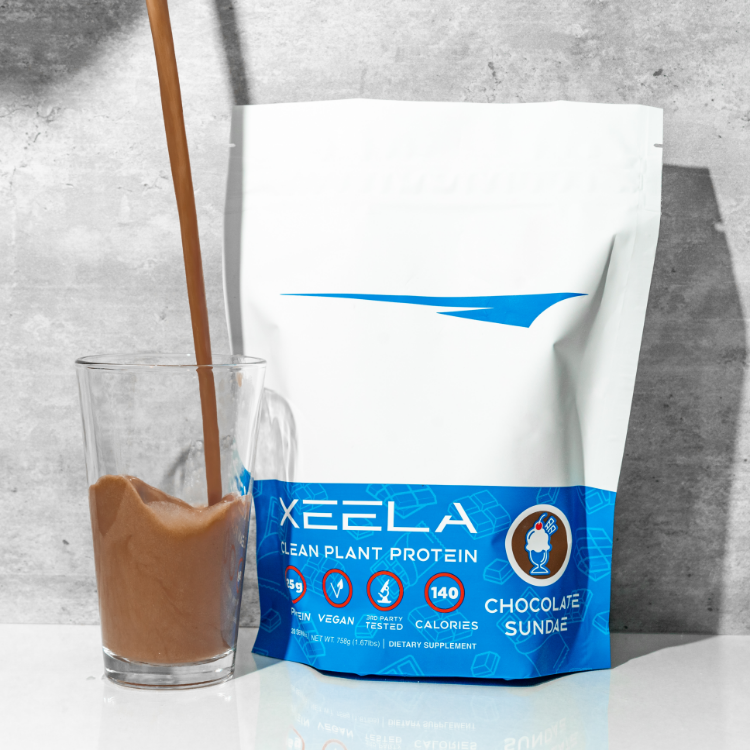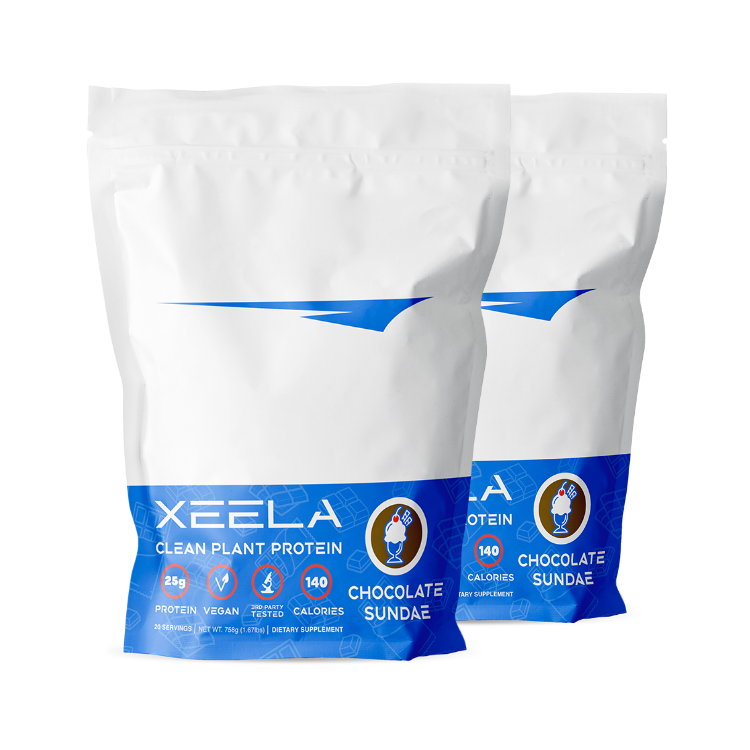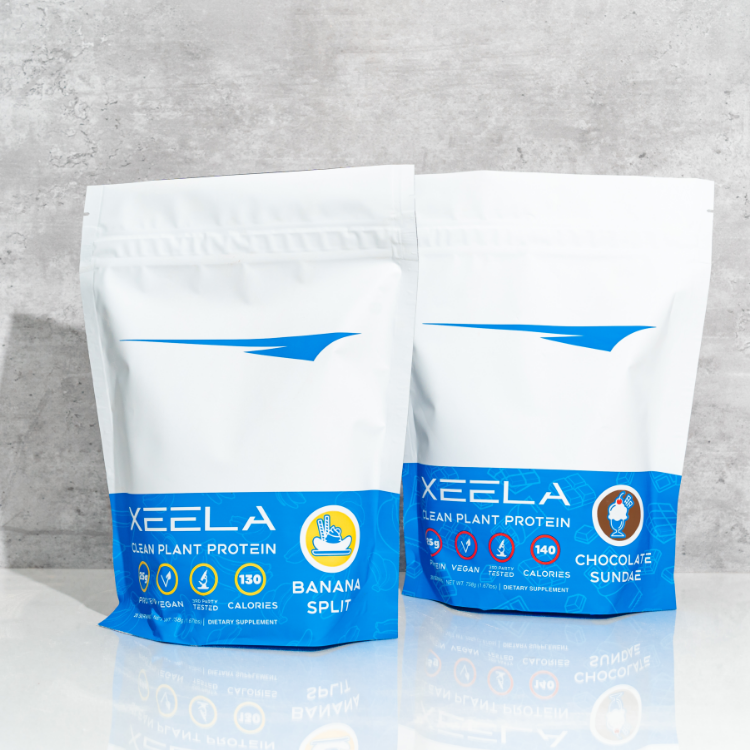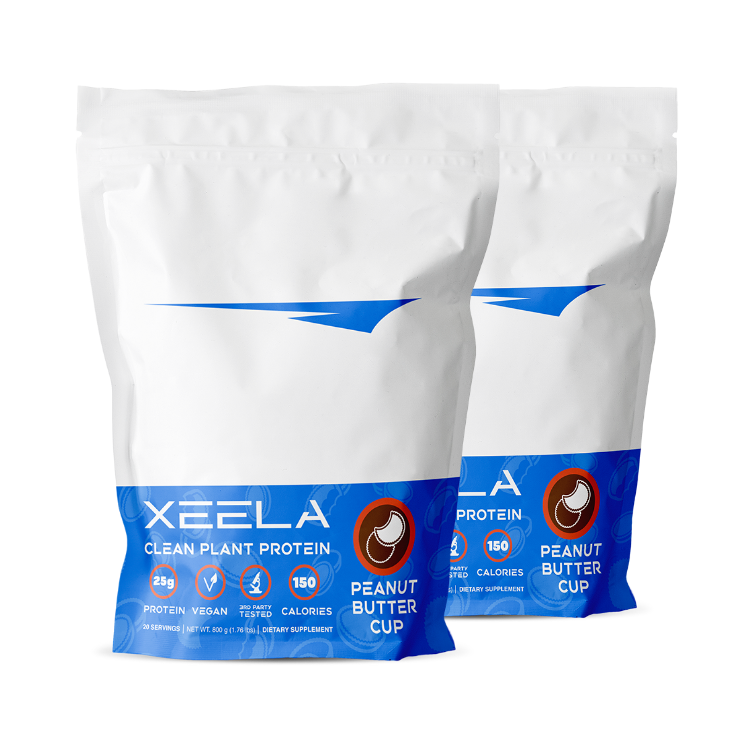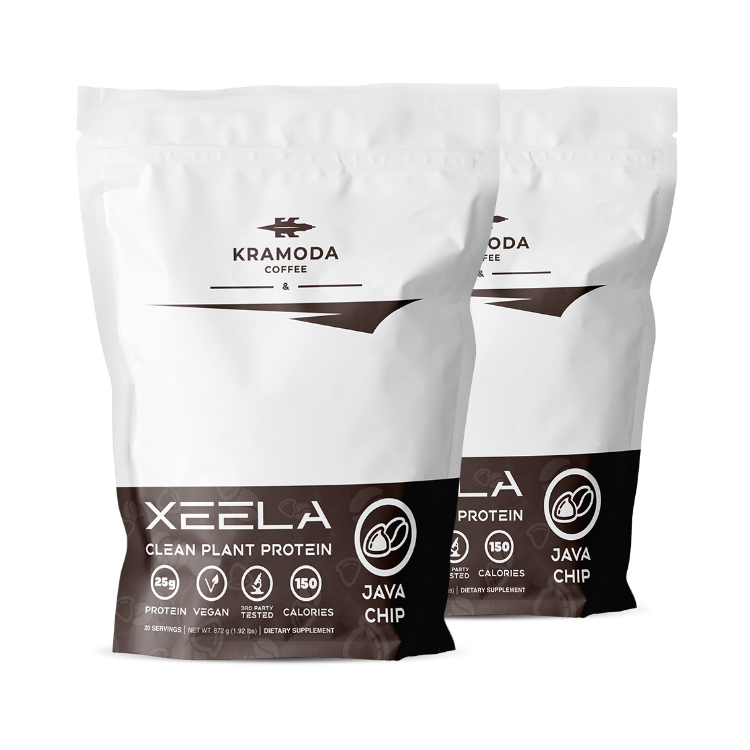 SMOOTH on tongue. FLAVOURFUL in taste. LIGHT on stomach.
So smooth it feels like you're drinking a milkshake.
Comes with no chalky or grainy texture. Blend it with water, milk, or any liquid of your choice to make your perfect protein drink. Rightly said - it is smooth, yet thick.
Tastes flavorful with just the right amount of sweetness.
Made with natural flavourings and ABSOLUTELY NO ARTIFICIAL FLAVOURS, so that you can enjoy the taste of a rich and indulgent dessert without any of the guilt. Ah…What a life!
No bloating and no upset stomach.
Comes with added digestive enzymes that helps with quick protein release and stays super light on stomach. Feel fuller but never stuffed.
Clean and Substance Free.
Made from THE Highest Quality Ingredients.
Our Chief Formulation Officer speaks straight from the Xeela Fitness Labs to assure you about our ingredients.
Formulated from high quality hand-picked ingredients
Made in certified cGMP manufacturing facility in California
Each batch is tested by Banned Substance Control Group to ensure the final product is free of heavy metals and contamination
Customer Reviews
Write a Review
Ask a Question
03/10/2023
Nicholas J.

United States
Top Notch
There is literally no better plant based protein available on the market. I have tried so many brands. Nothing compares in ingredients, taste, and composition.
12/06/2022
Michael M.

United States
Fantastic!!
Great taste for a protein shake, especially the banana flavor.
11/14/2022
Joshua B.

United States
Unbelievable
I love it! Great taste, and I am seeing incredible results! I am in the best shape of my life. The Mango prework out is great as well!
10/25/2022
Vozar

United States
The most delicious plant protein
I have ordered Xeela several times. The first time I was worried I got suckered, but the protein is truly delicious and was delivered quickly. I don't plan on changing my protein anytime soon.
10/17/2022
Tamia L.

United States
It's bread!
The only problem is I wish it came in more quantity the amount that's given now and if you do two scoops a day will barely last half the month
09/03/2022
Jessica P.

United States
Love it
Amazing tastes like a chocolate shake, super awesome!!
09/03/2022
Michael E.

United States
Love It!
The new Kramoda colab flavor is great! Keep up the great work!
07/12/2022
YESSENIA S.

United States
Blew my mind!
The flavors are unbelievably delicious! I have tried over 5 protein powders and I wouldn't be able to drink them. But this one is so creamy and delicious! Plus the ingredients are very clean! I will definitely be buying again! Thank you so much!
Free U.S. Shipping On All Order Over $75

All orders are processed immediately and shipped from our warehouse within 1 business day. Every single product is proudly made in the United States.

Every Product Is BSCG Approved

XEELA® is proud to announce our partnership with the Banned Substances Control Group. This is how we guarantee you are getting the absolute best & clean products available.