My overall experience with Xeela has been phenomenal, to say the less. Awesome product, awesome experience and awesome customer support.
Amy W (a Xeela customer)
8-WEEK PROTOCOL
---
Regular price
$229.94
Sale price
$194.99
Unit price
per
Sale
SOLD OUT!
We are proud to bring you the best tasting and most effective plant-based protein on the market. Every batch is tested to guarantee our quality. Everyone can benefit from introducing plant-based protein into their daily diet and Xeela is the path to do just that. XEELA® Clean Pre Workout contains ingredients proven to increase fat burning during exercise while providing you with the strength and focus to squeeze out every last rep. Our precisely dosed formula will give you the pump you are looking for, and the energy to get through any workout. All with no crash! Accelerate the weight loss and gut health benefits of Apple Cider Vinegar with XEELA® Clean ACV. Compared to Gummy and liquid alternatives, XEELA® ACV skips the sugar, is completely tasteless, and digests in your body more efficiently.
*** Clean Protein is an 8 week supply with shakes taken after workouts only (5 Days Per Week) - consuming additional shakes will require extra protein!
Share
How To Use

For Clean Pre Workout:
Mix one scoop with 8-12oz of water and consume 20min before activity, resistance or cardiovascular training.

For Clean Apple Cider Vinegar:
Take 2 capsules per day upon waking with a glass of water or with first meal.

For Clean Plant Protein:
Mix 1 scoop of Xeela Protein with 10 - 12oz of water or the beverage of your choice. Xeela Protein can be spoon stirred in a glass, mixed in a shaker bottle, or blended to create a smoothie. Consume 1-3 shakes throughout the day as needed to meet your protein intake needs.
Pre Workout Supplement Facts

(Tropical Punch)
Pre Workout Supplement Facts

(Blue Raspberry)
Pre Workout Supplement Facts

(Vanilla Iced Coffee)
Protein Supplement Facts

(Banana Split)
Protein Supplement Facts

(Chocolate Sundae)
Protein Supplement Facts

(Java Chip)



ACV Supplement Facts

(Apple Cider Vinegar)
Plant Protein Supplement Facts
(Peanut Butter Cup)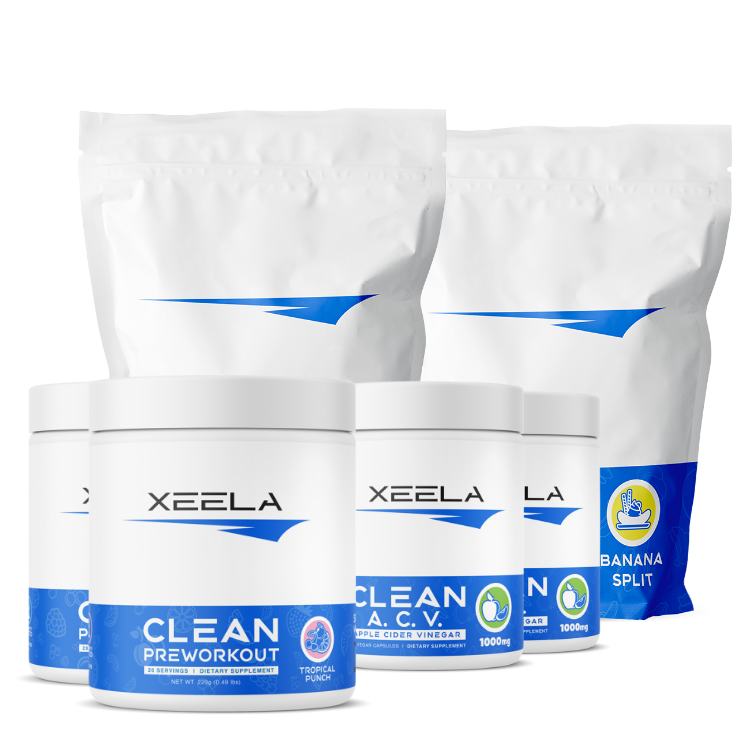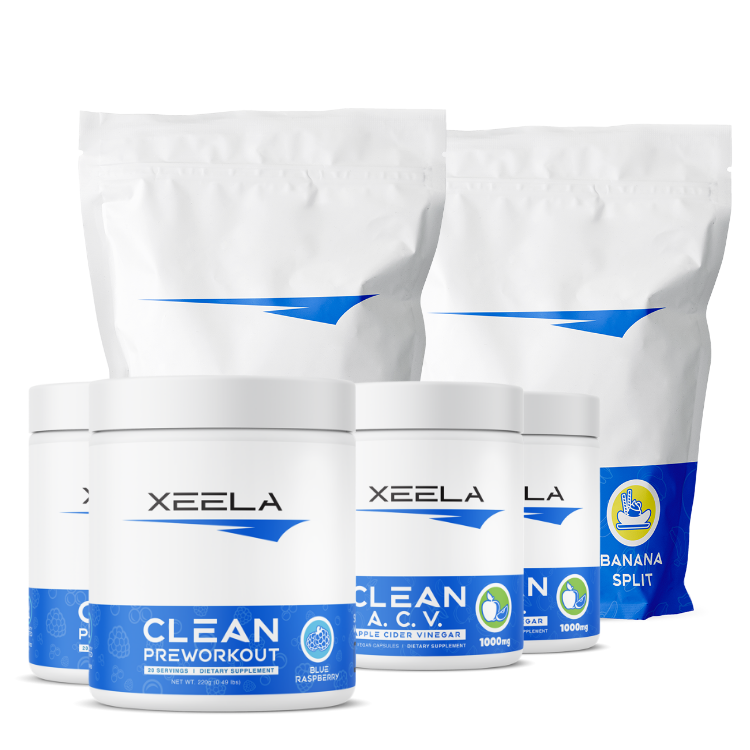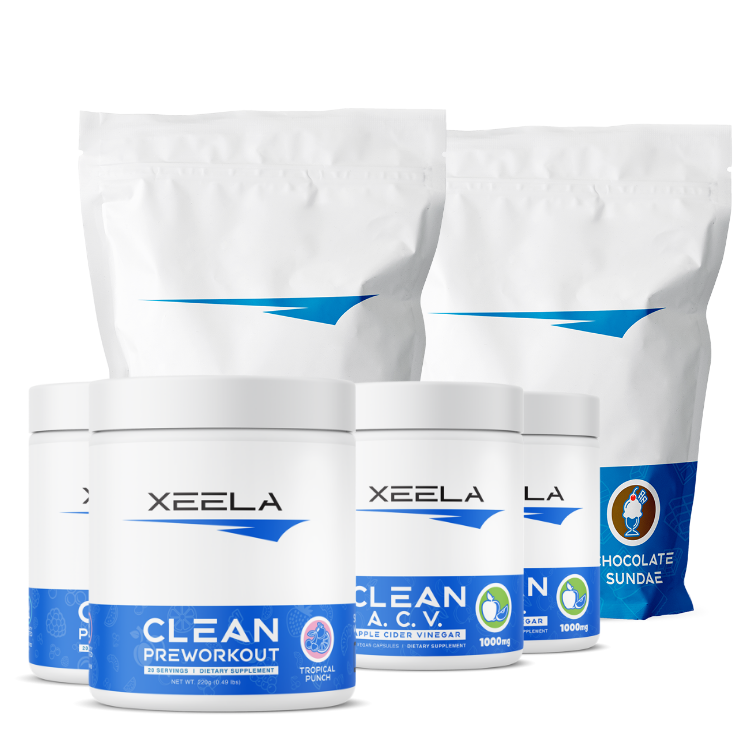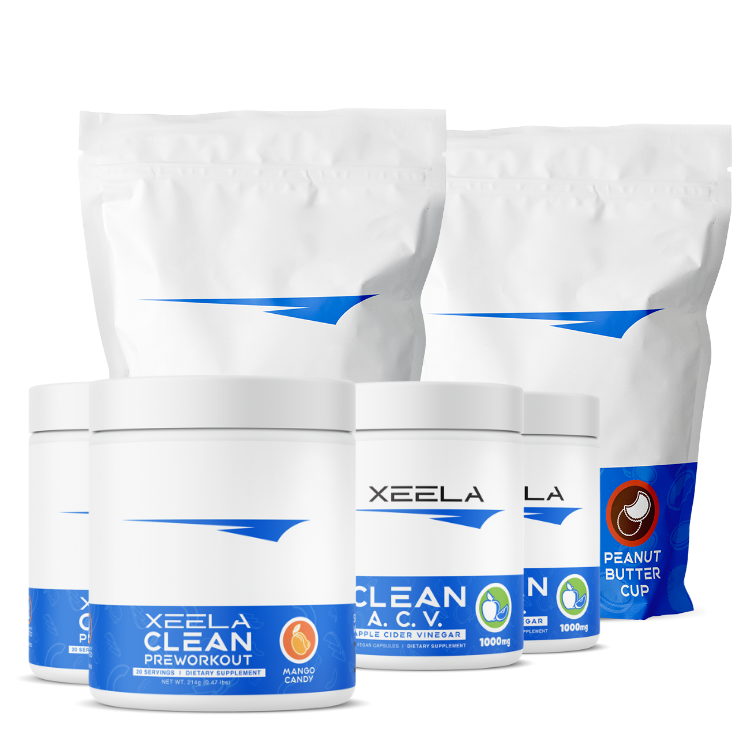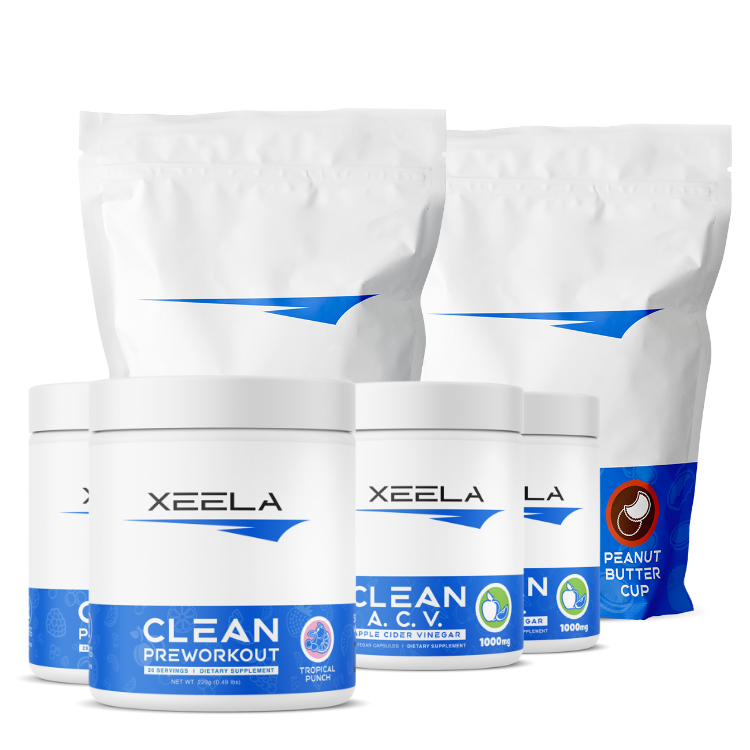 Customer Reviews
Write a Review
Ask a Question
09/03/2022
Luis S.

United States
AMAZING STUFF GREAT TASTE
It taste great! Love it well worth the cash!
08/19/2022
Tamia L.

United States
Amazing
My experience w/ these products have overall been good and the all plant base protein tastes better compared to the others I have tried
08/02/2022
Nathaniel C.

United States
Outstanding!
The flavors are really good and the protein powder is very creamy with just the recommended water amount!
07/22/2022
Juan L.

United States
Best protein I've ever had
07/19/2022
Jonathan G.

Canada
Buying more each time
Started with protein only, then took the preworkout/protein bundle, then the 4 week protocol and now the 8 week. Worth it.
05/18/2022
Kaitlyn T.

United States
Delicious!
I have to say I bought this because I enjoy all things VlogSquad. BUT, this is actually the best tasting protein I've ever had. The ACV is great as well but I definitely do find myself in the bathroom a bit more. The pre-workout tastes really good as well. I also really appreciate that nothing has a weird aftertaste. I am definitely looking forward to buying more!
05/13/2022
Salvador M.

United States
Workout
Best workout days after taking the pre workout
Free U.S. Shipping On All Order Over $75

All orders are processed immediately and shipped from our warehouse within 1 business day. Every single product is proudly made in the United States.

Every Product Is BSCG Approved

XEELA® is proud to announce our partnership with the Banned Substances Control Group. This is how we guarantee you are getting the absolute best & clean products available.